Optimera gets one year of industry exclusivity on our new training app, DigiLive Coach
Published: 24th November 2020
By: Stig Robert Larsen
Optimera, the Norwegian branch of the French company Saint-Gobain, has signed a deal to use DigiLive Coach, a new and groundbreaking training app from Task. The app will train employees in areas such as customer meetings, communication and sales.
Task has developed DigiLive Coach, a training app that improves communication and behaviour in leaders and employees. The app guides you through training with a gamified experience, where users get points and badges for completing parts of their training. It also gives users an overview of their results, so they can compare with colleagues at their own location, and others, if applicable. Our hypothesis is that whoever participates in their training most often with the strongest results will be the best!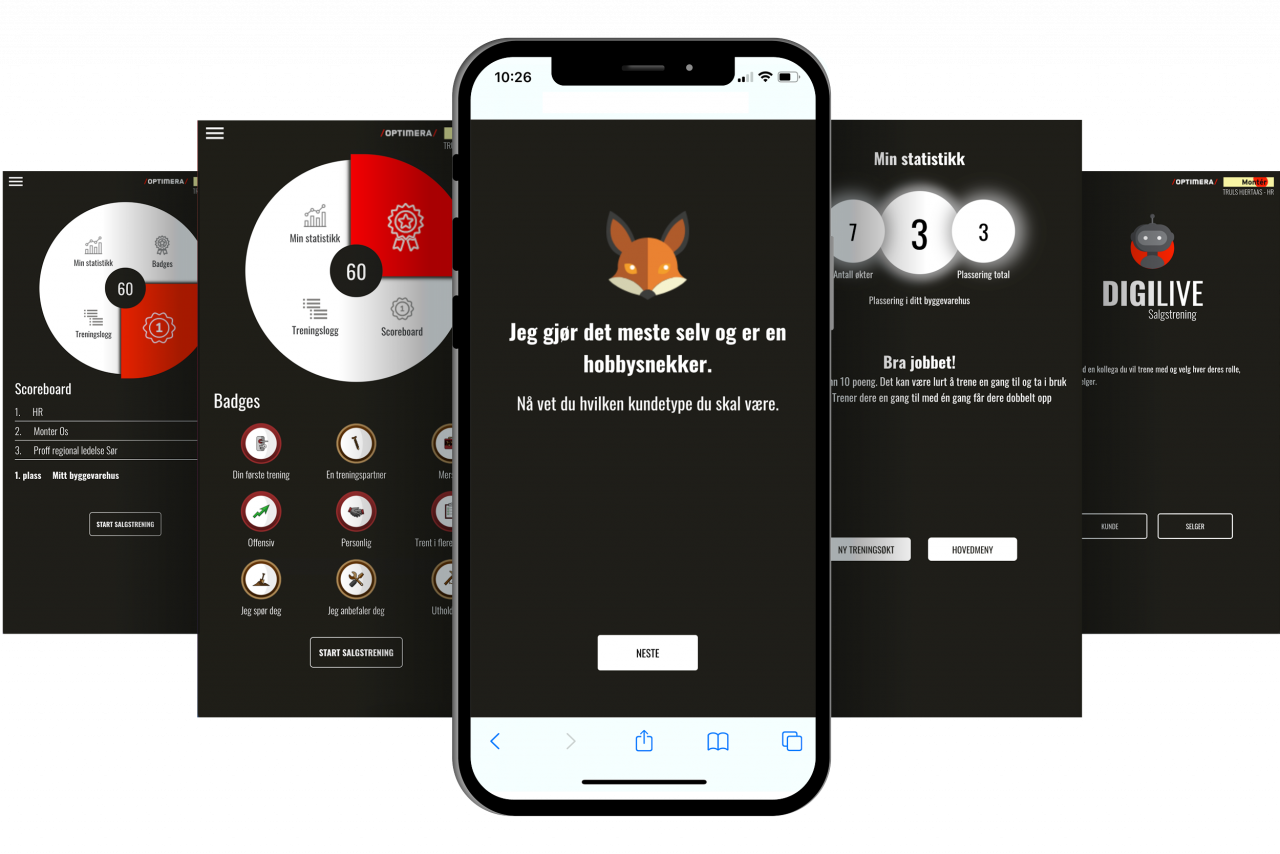 DigiLive Coach has been tested with users from three large retail chains in Norway with impressive results. Optimera is the first chain to use the training app, starting as of January, 2021. Their goal in adopting the app into their training offering is simple; to strengthen employees' ability to identify customer needs and suggest the right products, thereby increasing sales.
«As a specialist retail chain, our goal is to always provide the service our customers expect from us. We believe that DigiLive Coach is a tool that will contribute to training that is both effective and practical for our sales staff in terms of product training and customer interactions, and that it will increase customer satisfaction overall.»

Camilla Bostad, Director Retail Proff & Monté
Digilive Coach is inspired by other well-known training apps such as Strava, and features high score lists of who has completed the most training, badges for the first time participating, number of training partners, additional sales, and so on. Task's insight department has ensured the overall effectiveness of the app by conducting target group insight, testing and efficacy measurements. Tests so far have shown that DigiLive Coach is particularly well suited for training in communication and behaviour, such as sales training, service training, product training, management training and conflict management.
Why use DigiLive Coach?
Most companies have their own structures for communication, such as different phases of the sales process, templates for employee interviews, conflict management, and the like. Even though this sort of communication structure may already be defined, real-world interactions can create unexpected situations and unpredictable questions and responses. This can make relevant training in communication and behaviour challenging. Additionally, the most recent Employers' Survey (NIFU) makes it clear that employers are in need of employees with good communication skills. To meet this need, training in communication strategies is crucial for the current and future labour market. 70% of all communication is nonverbal. That means that how you communicate is just as important as what you communicate.
One big advantage of digital learning (including e-learning, films, games and gamification) is the ability to reach many people at the same time as they are guided through fixed structures. This ensures participants receive equal information, knowledge and training. Nevertheless, it can be challenging to practice the nuances of communication and behaviour without interpersonal interaction. Face-to-face training captures nonverbal modes of expression and can more easily factor in the kinds of issues that may arise in social interactions.
Why is DigiLive Coach unique?
DigiLive Coach combines e-learning and face-to-face training in a way that hasn't been seen before. The app acts as your digital facilitator, ensuring a structured review of the training materials, while the analogue in-person part allows for training in the complex issues that may arise within interpersonal interactions.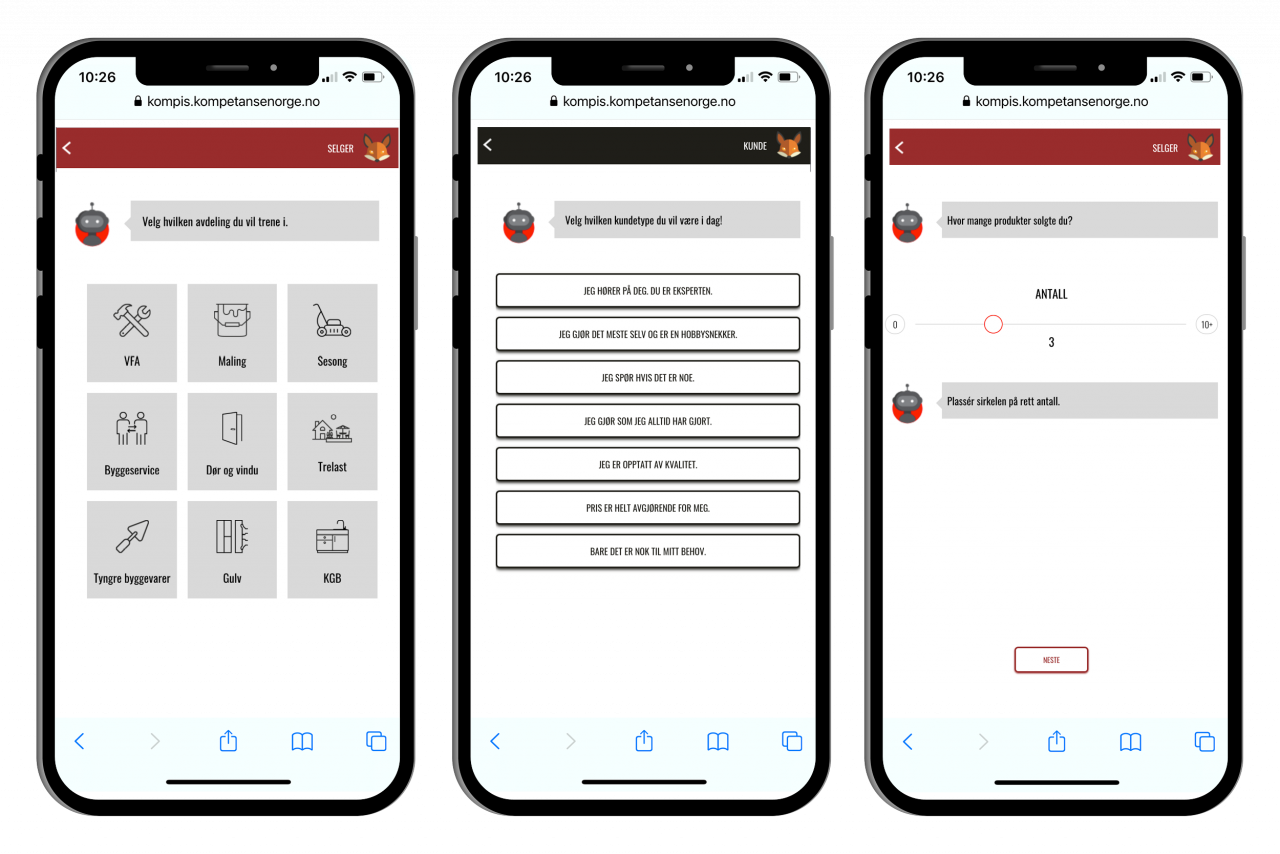 DigiLive Coach – a motivating personal trainer in your working day
Little is more motivating than getting recognition! DigiLive Coach awards points and badges as you train. For example, if you have trained four times in one month, you can get an endurance badge. Or how about a gold medal if you complete two sessions in a row? Every time you open the app, you get an overview of how you are doing compared to your department, and the business as a whole.
With DigiLive Coach, you choose an avatar (a virtual character) and take on a role, like a salesperson or customer, or as an employee or manager, and act out brief interactions with a teammate. Between these vignettes, you can provide feedback and exchange messages with your teammate. Like a good personal trainer, from time to time, the DigiLive Coach shows up to provide tips, advice and instructions. Administrators can create new cases and situations that employees can practice, ensuring continuous training on new situations and circumstances. A user-friendly interface provides a good overview of who in the company has trained the most. In this way, it's possible to steer towards important KPIs and test the hypothesis; "Whoever participates in their training most often with the strongest results will be the best!"
Adaptation to your business
DigiLive Coach can be adapted to your business so that it reflects your processes. This ensures 100% relevance and effectiveness.
We can integrate the app with your internal systems for single sign-on and reporting. And of course, you get a customised graphic profile for your organization.