European Athletics – I Run Clean
We are proud to have created an interactive and engaging learning experience that helps keep sports clean! This programme is groundbreaking in its form and has received brilliant feedback from users.
I Run Clean is the anti-doping campaign for European Athletics. This training programme addresses everything from values ​​and attitudes to the World Anti-Doping Agency's (WADA's) regulations, and is a mandatory qualification for every athlete to get their certification for European Athletics events.
Important primary target group
Plainly said: it's difficult to change attitudes. Those who have decided to dope themselves will dope themselves. Those who have taken a clear stand against doping will never do so. Therefore, it is those in the middle, the vulnerable young people, who are the primary target group for I Run Clean.
Takes e-learning about WADA's regulations to new heights
The most unique thing about I Run Clean is the method employed for working with attitudes and values. Users must, among other things, create their own values profile that is referred to actively throughout the course.
The values ​​can be picked from a list or entered manually. Once the user has chosen values, he or she can take a picture of himself or herself or choose an avatar. Then they have created their own virtual profile, or brand expression. The virtual profile appears throughout the programme, especially in dilemma situations, where one has to make choices.
In one dilemma, the user is injured and is tempted to take medication to return faster. This raises a number of questions that the practitioner must reflect upon:
What does your virtual self say about such drug use?

Is the medication on WADA's Prohibited List?

What do you want to do now, based on who you are?

What values ​​do you follow or break by acting in a certain way?

How does it feel to have made your choice?

What consequences could it have for you and those around you?
Inspiration for other companies
Every business should work with values ​​this way. Most companies adopt three or four values ​​that everyone must adhere to, while this method allows each individual employee to put into words what each value means to them. Only then will the values ​​really make sense, as values ​​should.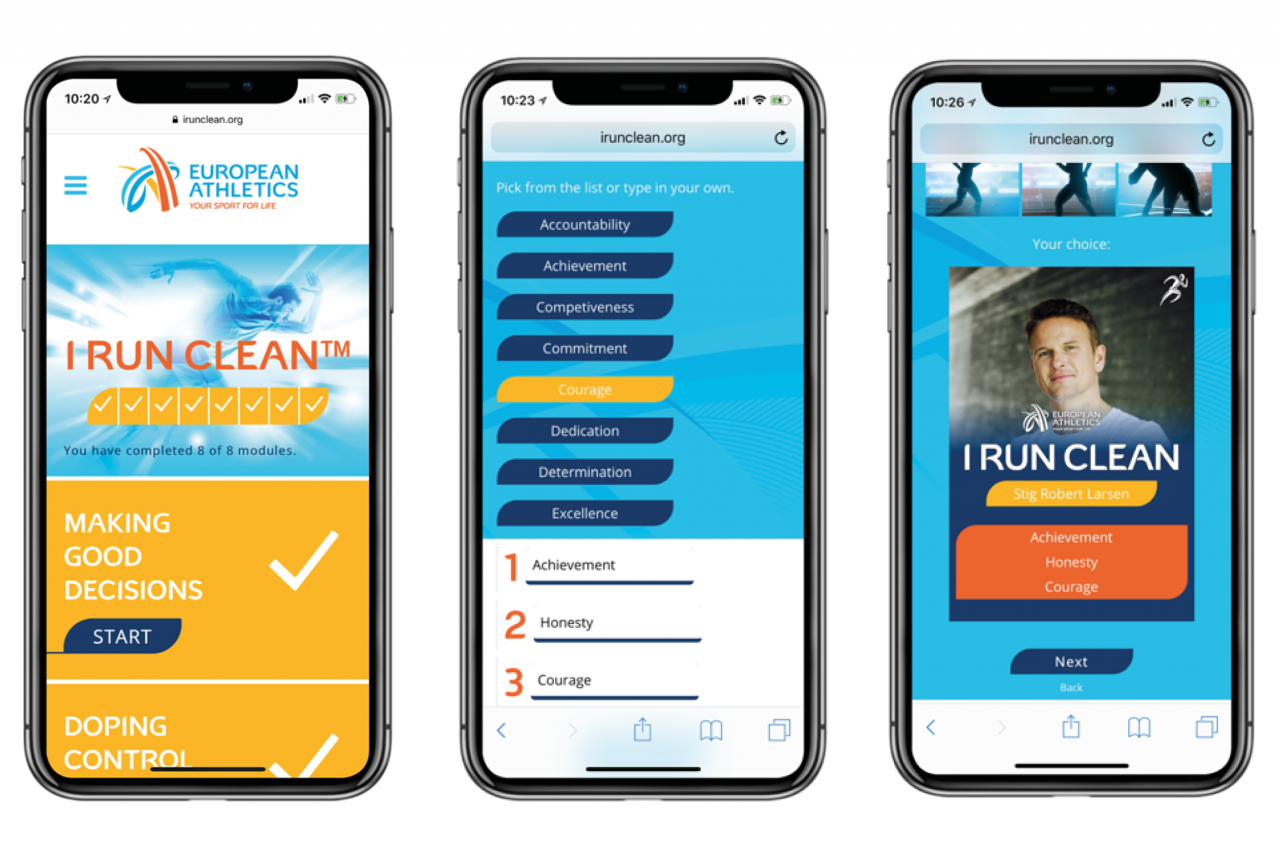 Want to try I Run Clean?
Register as a user at:
Method/ instrument: Games and gamification, e-learning, film, animation