Nordic Choice Hotels: A learning game where environmental threats are replaced with sustainable solutions
"Operation Penguin" is a game where employees of Nordic Choice Hotels learn the company's sustainability policy within a virtual hotel environment.
Nordic Choice Hotels takes climate and the environment seriously, which is why they have had a project called Operation Penguin for several years. The goal is to ensure that each individual employee understands Nordic Choice Hotels' sustainability policy, and that they know how they themselves can contribute in the short and long term. In 2012, we created a standard e-learning programme for Penguin. Nordic Choice now wanted to develop a learning game for all 13,000 of their employees.
The content was built around the certification requirements for sustainability and adapted to hotel operations
In the game, employees learn which factors in hotel operations affect the climate and environment, and which sustainable measures they themselves can take every single day. It is about identifying environmental threats and replacing them with sustainable solutions.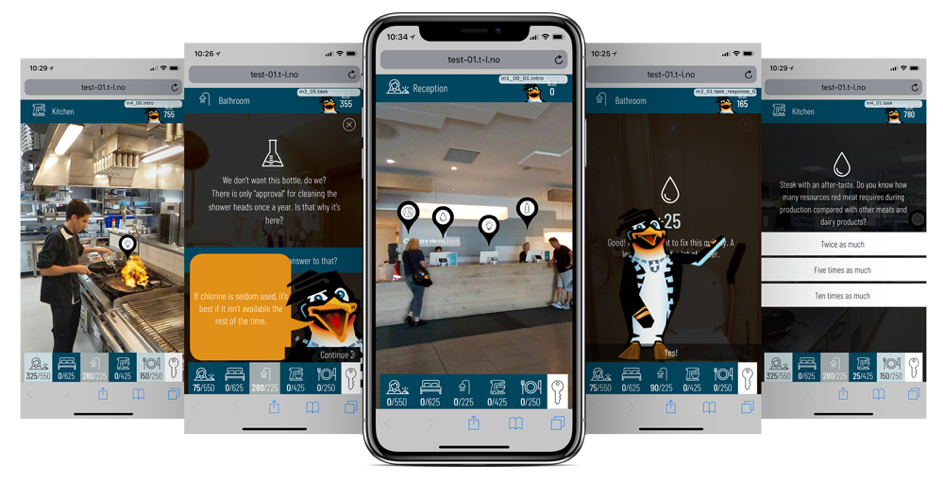 The player guides Petter Penguin – who has Nordic Choice Hotels owner Petter Stordalen's enthusiastic voice – around the hotel. As you make smart choices, you get sustainability points. It is possible to get bonus points – but then you have to know how to "hack" and find hidden worlds. The total score is displayed in a high score list. The game works great on both mobile and desktop, but mobile users get an extra treat. By moving their phone, they can navigate around the reception, hotel room, restaurant etc.
The key to the success of this game is that it's equal parts playful and relevant. In addition, Operation Penguin is an established concept in Nordic Choice and is anchored right up in the top management. The programme has been translated into Swedish, English and Danish, and has been implemented throughout the hotel chain, receiving great reception along the way.
Method/instrument: Games and gamification, e-learning, film, animation