HSE training and certification for Fred. Olsen Windcarrier's offshore employees
"In the safe zone" is a parallax-scrolling solution where the target group learns about HSE through engaging and interactive scrolling exercises.
Fred. Olsen Windcarrier is a large and important supplier and installer of offshore wind turbines. This work is carried out via their specially built boats, Brave Tern, Bold Tern and Blue Tern. Since work on board is associated with safety risk, focus on Health, Safety and Environment (HSE) and onboarding are important.
To automate and streamline training, Fred. Olsen Windcarrier provided employees with a tablet containing a pre-installed training programme to be completed on the boat before starting work. The programme was called "In the safe zone". The client didn't want standard HSE training, and since several people had to complete it simultaneously on tablets while sitting next to each other, it was also important that the training could be completed without sound.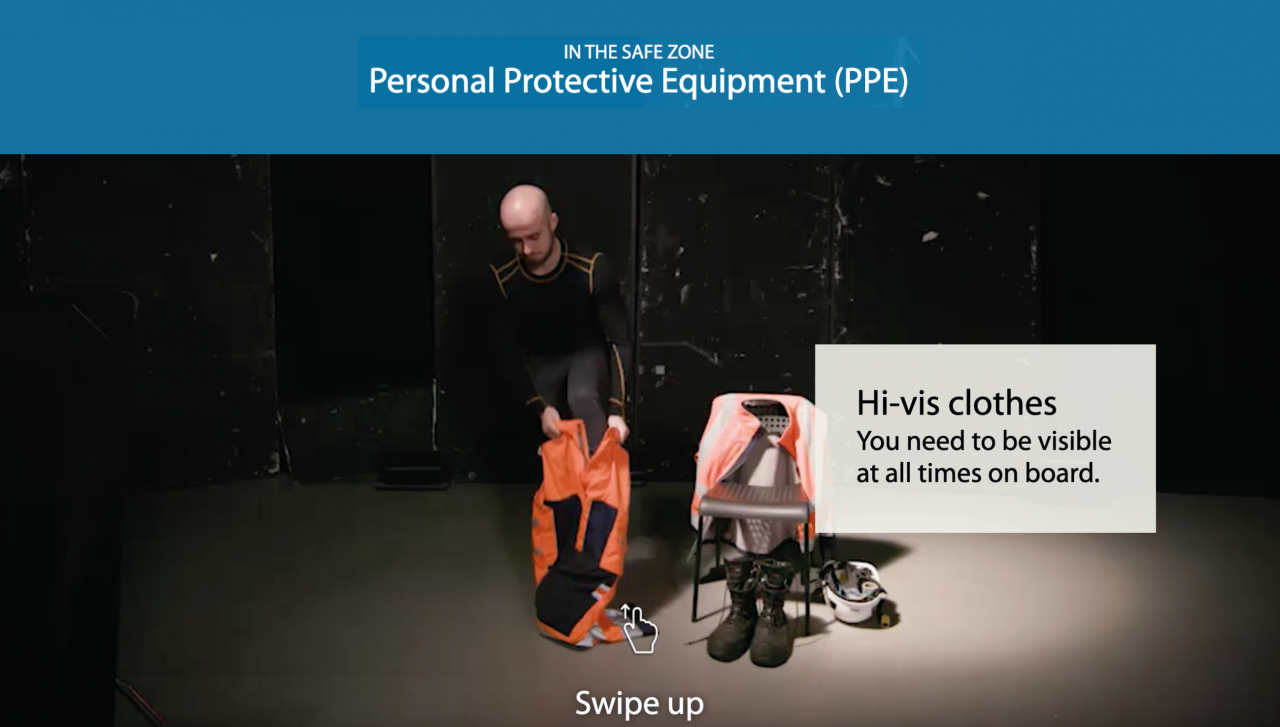 The result was a training programme with a parallax design, where the user scrolls through the training while the content is laid out in two layers. This provides an intuitive user experience, and the learning content is communicated effectively and engagingly at the same time. Among other things, users learn the correct use of protective equipment by scrolling the correct equipment on one of the workers through interactive film exercises. In addition to the training programme itself, we created a tailored mini learning management system (LMS) to allow for easy login and targeted reporting. When the user has completed the programme, he receives a "License to Operate".
The feedback so far has been brilliant!
«I have just returned from two days on board with the implementation of the new solution. It worked just as it should. Very well received in the field – "professional!!" was a repeated comment. Thank you very much for a very successful project! Delivered on time and on budget, which doesn't happen every day when it comes to IT solutions!»

Jan Fredrik Platou, Head of HSEQ at Fred. Olsen Windcarrier
"In the safe zone" deals with the following modules:
Personal Protective Equipment (PPE)
Where can you move on board?
Stop work – policy
Observation Card
Risk awareness
Take 2
Safety rules
Most common causes of injuries
Hot works
Working at heights
Dropped objects
Chemicals handling
Staying on board
If something happens – alarms
Emergencies
Method/instrument: E-learning, film, animation