DigiLive
DigiLive uses the strengths of both technology and the physical surroundings within the learning situation. Our two products are DigiLive Coach, an app that lets pairs of people practice communication skills, and DigiLive Class, which involves larger groups and a variety of topics.
DigiLive Coach – a groundbreaking app for training communication and skills. DigiLive Coach is perfect for sales training, service training, product training, management training, conflict management, and more.

Why use DigiLive Coach?
Most companies have their own structures for communication, such as different phases of the sales process, templates for employee interviews, conflict management, and so on. But even though the structure is defined, all situations are different, with different contexts and personalities involved. This can make training in communication and behaviour challenging. It's been said that around 70% of communication is nonverbal. This means that how you communicate is just as important as what you communicate!
Combines the best of e-learning and face-to-face training
The advantage of digital learning (such as e-learning, films, games and gamification) is that you can have a broad reach and ensure equal information, knowledge and training is provided for all participants. Face-to-face training, in turn, captures non-verbal modes of expression and takes into account the issues that may arise in social interactions. The combination of the two ensures structured training for all participants, while at the same time providing space for the complex issues that arise within interpersonal interactions.
How does it work?
DigiLive Coach is your digital facilitator. It keeps track of the learning process, and guides you through the in-person training sessions. You take on a perspective or a role, for example as a salesperson or customer, employee or manager, and act out interactions. Between these vignettes, you can provide feedback and exchange messages with your teammate. From time to time, the DigiLive Coach shows up to provide tips, advice and new instructions. It gives you points and keeps track of how much you have accomplished.
Our hypothesis is that whoever trains the smartest and most often will be the best!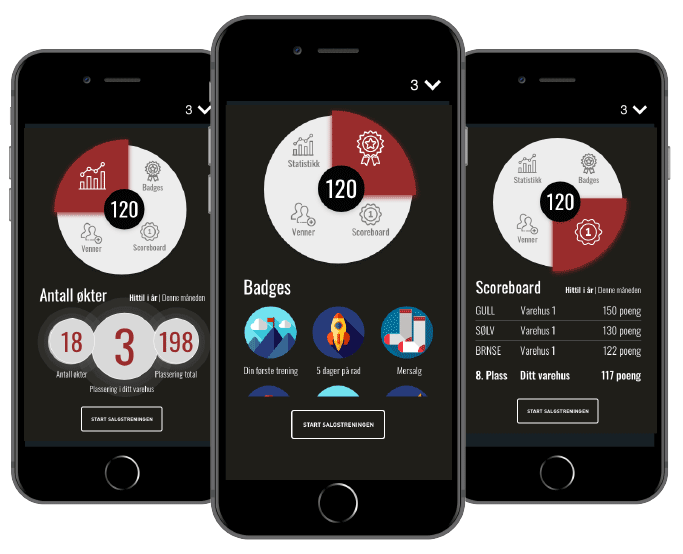 DigiLive Class – the tool that ensures involvement and learning in group sessions
DigiLive Class is suitable for most topics. The tool engages participants in a way we have rarely seen before.
Why use DigiLive Class?
At Task, we have always had great faith in a mix of digital and analogue, sometimes referred to as mixed or combined learning. When people come together and interact, a dynamic emerges that digital learning alone cannot create. At the same time, it can be expensive to travel to seminars and the participants can quickly become passive listeners. DigiLive combines the best of both worlds in a new and effective way.
Many of us have experienced how tools like Kahoot and other game-based learning platforms create engagement and involvement. DigiLive Class takes this further and includes films, knowledge dissemination, guidance and group assignments. The product can be fully tailored to your business, both in form and content.
How does it work?
DigiLive Class is suitable for groups of five people and up. Each participant logs in with a code from their mobile phone, tablet or laptop. The facilitator controls the big screen using a separate guide. Movies, pictures, soundtracks, animations, and more are shown on the screen. Along the way, the participants are involved in opinion polls, knowledge questions and path choices. They respond using their own device and the facilitator gets the answers on the big screen, and from there initiates dialogues, either in the large group or within small break-out groups.
DigiLive Class contributes to high enthusiasm and learning. Participants can, for example, take part in influencing what happens in a scenario, and then experience the outcomes of their decisions. The concept also encourages group work, allowing groups to do things like create presentations and videos that they can upload and share. The programme is self-driven and efficient and requires neither experienced speakers nor special preparations.
The concept is suitable for a number of topics such as:
Strategic communication

Leadership development

Vision and values

Sales training

Internal branding

Dilemma training

Scenarios

Health, Safety and Environment (HSE)

…and much more
We would be happy to book a meeting with you and your company to look at the possibilities that DigiLive Class could open for you.